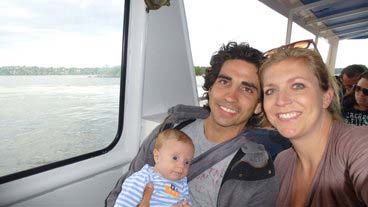 "It was a miracle. Within seconds, our sweet little baby boy was eating off my breast like he never had before. For the first time I could hear him swallowing. We were willing to do anything and pay anything to learn how to do it ourselves."
Liesl, mother of Dane

We were desperate.
We had tried absolutely everything and nothing was working. We spent the first two weeks of my son's life in the hospital. Both he and I were fighting infections. During that time the nurses and midwives tried to teach me how to breastfeed our son. We left the hospital after 3 infections in 2 weeks and still couldn't breastfeed.
We spent the next two weeks trying to figure it out on our own (with a lot of help from google!). I kept getting breast infections and my son had to be mostly on formula because I was not producing enough milk. We went to the consultation with no hope that it would help but we felt we had to try everything we knew of before quitting with the breastfeeding.
My son was 4 weeks old. I was in the middle of my 4th mastitis, each of them requiring antibiotics. I was pumping every 3 hours and never getting more that 25 ml total. My breasts hurt so badly that I would start crying even before it was time for a feeding.
Several doctors, nurses, and midwives told me to stop breastfeeding. But I wanted so desperately to give my baby the best start and have that special connection time with him.
We tried almost every – Det Private Barselshotel was the needed miracle
It was a miracle.
I had completely lost hope of ever being able to breastfeed my son. I only went to the consultation to ease my guilty conscious of trying everything before quitting.
After telling Ditte my horrible experience so far she asked if she could try to put my son on my breast. Within seconds, our sweet little baby boy was eating off my breast like he never had before. For the first time I could hear him swallowing.
My husband and I were in total shock.
At that moment we knew it was possible. We felt hopeful. And we were willing to do anything and pay anything to learn how to do it ourselves.
From frustration to joy
We look back at our experience at Det Private Barselshotel as the turning point in our experience as new parents. We were so frustrated, confused, and unhappy before. Ditte and Charlotte took such good care of us. They are extremely well educated, excellent teachers, and very kind.
We enjoyed every minute at Det Private Barselshotel.
We left after 4 days. I was still finishing the antibiotics for my 4th infection so my milk production was still very low. Our son was still taking some formula everyday. But I knew how to breastfeed properly and I knew how to get my milk production up.
Our little boy is now 3 months old. I have been exclusively breastfeeding him for over a month now and I have not had any more breast infections.
We feel like normal parents now. We get to enjoy the joys of having a sweet little baby boy in our family. We have even taken our first little holiday for a weekend away.
We tell everybody about the wonderful experience we had at the Private Barselshotel.
Liesl, mother of Dane